All the good things about using the Remarkable 2
E-ink devices are where technology, productivity, and fun meet. Although my e-ink tablets could not help me with my sleep, there are some things that I miss about having them.
I owned both the Remarkable 2 and Supernote A6x for several months. I enjoyed using both of them. In my day-to-day life, I took notes for academic research and my blog. I journaled every morning. I sketched from time to time. Here, I'll discuss a few of my favorite features of the Remarkable 2 (we'll talk about the Supernote A6x soon!).
Some Things That I Miss About the Remarkable 2
There are a few features of the Remarkable 2 that go unmatched on any other device that I've used. Writing on the Remarkable is its strongest point. This makes basic note-taking, journaling, and even sketching a joy.
The Writing Feel (And Sound) Was Satisfying to Work With
Writing on the Remarkable 2 is similar to writing on paper. In some ways, it feels better than writing on paper. One advantage of the Remarkable is that the writing canvas will always lie flat, and this isn't the case with all physical notebooks.
The scratchy sound of writing on the Remarkable is satisfying. For example, there is a sound of etching onto paper as compared to tapping on glass like on the iPad (without screen or Apple Pencil modifications).
Because writing on the Remarkable felt so nice, I often used it to take meeting notes. It always had a space on my desk for quick notes. An underrated feature of the Remarkable is that those quick notes could be resorted to other notebooks as needed. For example, if I took all of my meeting notes for the day in one notebook, I could later resort them to separate notebooks for recurring meetings with different people. The Remarkable writing experience, combined with underrated features like individual note sorting, made it a joy to use for working, sketching, and journaling.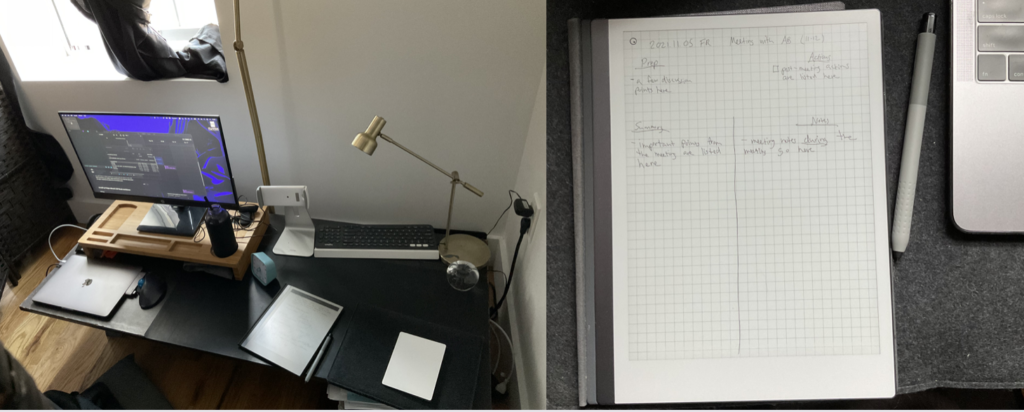 Sketching Was A Lot of Fun
I am no great artist, but sketching is fun! Doodling is one way that I like to take a break and decompress a little throughout the day. Sketching on the Remarkable is really a treat because it has tilt and shading capabilities that are similar to using a physical pencil.
My (poorly drawn) doodles illustrate that drawing on the Remarkable nearly emulates that of drawing with a pencil and paper. I've found some truly talented artists on the Remarkable subreddit using "art" as the search term.
Journaling Every Morning And Automatically Getting a Digital Copy
This was my favorite part. I have kept a morning journal practice for a while, and the Remarkable somehow made journaling feel a little more peaceful. With the Remarkable, I felt no guilt about starting with a blank page because I wasn't wasting any physical paper. The writing feel and sound was a soothing part of my morning routine. There is no clock on the Remarkable to remind me of how much time I've been writing. It is a pure writing experience with no ability for any incoming distractions.
When I made it to the end of my morning writing ritual, I converted my handwriting to text and sent it to my digital Day One journal using the email feature. For me, this was the coolest feature integration for the Remarkable 2!
Now, I want to be clear that the text conversion cannot be saved to the Remarkable 2 device, but it can be edited before sending the email off. My handwriting is not perfect. I would need a minor revision here and there. This never took more than a couple of minutes, and sometimes, I would just send the "good enough" version to Day One and edit later if I felt it was important enough to fix.
So Where Is My Remarkable 2 Now?
My Remarkable was sold to some lovely eBay buyer since I kept it far beyond my 30-day trial period. While I enjoyed my Remarkable 2, I could not justify keeping it as a single use writing device. In a future post, I will discuss some of the disadvantages of the Remarkable that led to my decision to sell it and try the Supernote A6x for note-taking.
"Individually-tailored systems, perhaps using a mix of ideas from others, personal experiments, and reflection, work best to design a note-taking system that evolves in a way that consistently meets your needs."
While I tell the story of my note-taking journey through this article and subsequent ones, I encourage readers to keep in mind that my note-taking needs may differ from theirs. Individually-tailored systems, perhaps using a mix of ideas from others, personal experiments, and reflection, work best to design a note-taking system that evolves in a way that consistently meets your needs. I'm always excited to hear about how other people take notes and what devices or systems they use to manage their work responsibilities, personal lives, and maintain a balance between the two. Leave a comment below or email me directly to discuss note-taking fun!
If you found value in this post and want to say thanks, here are a few ways to support the blog:
Leave a comment for further discussion.
Chat with me directly and send feedback, questions, or article requests to emily.c.hokett@gmail.com
Join Medium and my email list for regular posts (~2x per month, never spam, no ads).
Buy me a tea🍵 to support the maintenance of the blog.